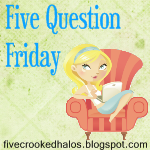 Special thanks to We're All in This Together for sharing this on her blog! This meme is hosted by Five Crooked Halos.
1. S
hoes in the house -
yay
or nay?
Absolutely, no doubt about it. The reason is simple--this house is all tile. While the tile is gorgeous, it was also never sealed. The grout draws every particle of sand and dirt tracked in by the human, canine and feline residents of this home. Therefore, no matter how many times I sweep, vacuum, scrub and mop, the floors always feel sandy. Not only do they feel sandy, but they will seriously turn the bottoms of your feet black. My husband refers to this type of dirty feet as "7-11 feet". Don't ask me why...I'm sure it's some sort of strange reference to some girl he knew back when who walked around barefoot at the 7-11 or something. My kids must think I'm strange because I'm probably the only mom they know that yells at her kids to go put shoes ON while in the house. I can't stand for them to go barefoot either!
2. W
hat do you call them- flip flops, slippers, thongs, etc?
I call them flip flops. Thongs sound like the things some girls would refer to as "butt floss" or "underwear". Slippers sound like the things my grandma wore to bed. So, here in Florida we call them flip flops. Oh, and we wear them year-round, pretty much!
3.
What song are you almost
embarrassed
to admit you know all the lyrics to?
Sadly, it would be "Ice Ice Baby" by Vanilla Ice. I can't help it...the things we learn at a young age tend to stick with us the longest. Not only do I know all the words to this song, but on the rare occasion I hear it on the radio, tv, etc., I start to chair dance a little.
4.
What is the best quality to have in a friend?
Loyalty! I have been burned on more than one occasion by people who I *thought* were loyal friends. I'm talking the kind of loyalty a Marine has for his brothers...the kind of loyalty a dog has for his master. Hmmm...that last one makes it sound like I want a friend I can boss around...not at all. I just admire a friend who will not stab me in the back!
5. D
o you know what you want for Christmas?
Well, of course! I have a huge list, but when my husband asks me what I want I will probably just tell him that I don't need anything. But, if he asks you, you should tell him that I want a new wedding ring (maybe I'll blog about why!) and a DSLR camera. I want the camera because I'm constantly taking pictures of our son but I'm not pleased with the look of the finished product. I suppose along with that camera I would need a couple of lenses (I really want a macro lens) and probably some photography classes. Oh and a new copy of photoshop since the one I had has been deactivated since I left my job (fair enough as it was THEIR copy not mine).
I highly doubt I will get any of the above because Christmas is our costliest time of year...we have to purchase 5 round trip airfares for right at Christmas time, buy gifts for our 5 children and other family members, several birthdays (including the hubby), our anniversary, and renew registrations on 3 vehicles, a camper, and two trailers. Oh, and this year we're expecting to have to fly hubby roundtrip from the sandbox to home and back again. Phew, I may need to take out a mortgage on this house to pay for all that! (Cr@p! We rent...oh well!)
I should also state that I am PERFECTLY ok with not receiving anything for Christmas, birthdays, etc. I am a mom. This is perfectly normal for me. My kids always have and always will come first!